Maj. Eugene Roberts
P-47C Thunderbolt
'Spokane Chief' WZZ

Original Sold ●

8th Air Force
78th Fighter Group
84th Fighter Squadron
Station 357
RAF Duxford
August 1943
| | | | |
| --- | --- | --- | --- |
| Artwork Dimensions: | Medium: | Picture Code: | Share: |
| 40cm x 25cm (15.75" x 9.8") | Graphite on Drafting Film | AV023-P-47C-78FG | |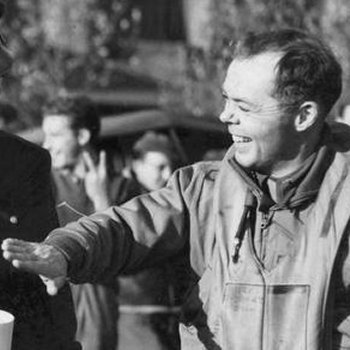 Standing by the open hangar doors and warmed by the rays of a late Summer sun in 1943, Maj. Eugene Roberts runs over the paperwork with a member of the ground crew after repairs have been completed on his P-47C Thunderbolt's Pratt and Whitney R-2800 Double Wasp powerplant. On the return leg of his last mission with the 78th Fighter Group the aircraft had started to run a little rough and he'd noticed some unusual oil pressure fluctuations so his Crew Chief had set about diagnosing the problem and getting things fixed before the next sortie. With the remedial activity now completed it's time to take his aircraft up for a test flight and to give her a full shakedown in the friendly skies over East Anglia. After an initial stint at Goxhill, the Group had managed to fall on its feet when they moved to their new home station at Duxford - being an established airfield built during the inter-war years for the Royal Air Force, it was well equipped with several spacious hangars giving good protection from the often inclement English weather and also considerably more comfortable living quarters for the personnel than were endured by many of the other Groups in the 8th Air Force.
Maj. Eugene Roberts' P-47C-5R-RE Thunderbolt WZ-Z 'Spokane Chief' was one of the main production sub-variant of the P-47C and like many of the other early mark P-47s, it had been retrofitted in service with a bulged keel kit containing the plumbing and shackles needed to hang an external fuel tank on the centreline. As the scene is set in the early days of the 8th Air Force's time operating in the ETO, the aircraft wears a scheme of olive drab upper surfaces and grey undersides, along with a white cowl band and white identification stripes around the wings and vertical and horizontal stabilizers. It would be the Spring of the following year before the Group began to adorn their aircraft's noses with the distinctive black and white chequered pattern.
Roberts was one first pilots to arrive as part of the newly formed 8th Air Force and in August 1942 took command of the 84th Fighter Squadron operating P-47s out of Duxford. Over the next 13 months he passed the tally of five aerial victories which would make him one the 78th Fighter Group's first aces, before taking on the job of Deputy Commander of the Group. After promotion to Lt. Col. he went on to fly a second tour of duty from January 1945, this time in charge of the 364th Fighter Group operating P-51 Mustangs, finishing the war with a total of nine confirmed aerial victories and one probable over the Luftwaffe, all but two of which were achieved in this trusty P-47C.
Similar Items