About Me
Hi there,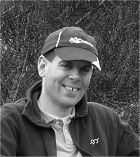 In my younger years I spent a good deal of my time drawing, mostly pictures of aircraft, or sometimes tanks, or cars, and always striving to produce the most accurate and detailed drawings possible. The subject matter frequently mirrored my childhood obsession with everything related to World War II and, like many youngsters of the time, I also spent my free time (and pocket money!) eagerly searching out the newest plastic kit release at the local model shop to build and fill the shelves in my room. The dramatic paintings adorning the boxes of those model kits, along with the covers of my weekly diet of Commando comics, provided an endless source of artistic inspiration thanks to the likes of Roy Cross, Ian Kennedy and Gordon Livingstone.
Despite my early pursuits in art, when I left school I opted for a career in IT instead and with other demands in my life, apart from drawing an occasional picture as a present for my family, many years went by where I didn't develop my artistic skill set any further. Throughout this period, however, my interest in aviation and World War II remained a constant and in 2000, after moving back to the East of England where I had grown up, I once again had the old airfields of the Eighth Air Force and the many memorials dedicated to those that had once occupied them, right on my doorstep.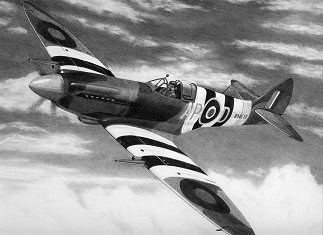 I've always liked to go out walking in the countryside and I began to spend time exploring these places, increasingly finding myself sat in the ruins of an old dispersal, or at the edge of weed covered perimeter track, imagining the sights and sounds of the people and machinery that had been there before me. With each new visit I became more engrossed in the history wrapped up in these places and my library of books and DVDs on everything to do with the US Army Air Forces grew in unison. I also became a regular visitor to the American Air Museum at Duxford studying the aircraft and information displays and checking out every corner of what is a near intact example of a wartime airfield that had been home to both the RAF and USAAF in its lifetime.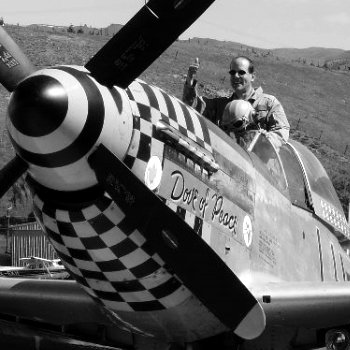 In the autumn of 2010, the catalyst to finally pick up the pencils and start creating aviation art again was to come about as a result of a trip across the globe to New Zealand. At the time, the possibility of flying in a warbird in the UK was almost non-existent, due to a combination of regulations and cost, but while planning the holiday I came across someone who was operating a P-51D Mustang out of Wanaka on the South Island. After getting in contact with the owner, Robert Borrius Broek, it soon became apparent that my lifelong dream of flying in a Mustang might just become a reality. Thankfully when the time came, all the plans fell into place and I found myself strapped into the rear of a dual control P-51D adorned in the colours of a 353rd Fighter Group veteran 'Dove of Peace' (flown by Capt. Glenn Duncan) roaring across the sky over the beautiful lakes and mountains of New Zealand. I also hit it off straight away with Robert who was clearly someone who shared my passion for these aircraft and we chatted at length about the people and history they represented. Needless to say the whole experience was incredible - even now, I still find it hard to believe I was lucky enough to get the chance to fly in one of these classic warbirds and I took some amazing memories away with me (you can see some of them here). The flight also provided me with a whole new perspective on what it must have been like to be given charge of one of these planes and to then have to fly it in action over enemy territory during the war.

After I returned to the UK, I frequently found my thoughts wandering back to the time I had spent with Robert and his P-51 which led me to decide that I wanted to do something special for him to properly show my appreciation. After careful consideration and with more than a little nervousness, out came the pencils, paper and reference books and I began to create a wartime scene of 'Dove of Peace' parked on the hardstand at RAF Raydon. I was soon reminded of the enjoyment that drawing had given me in the past and better still, Robert's reaction to his surprise gift was everything I hoped it would be - the picture now hangs proudly on a study wall in Wanaka, New Zealand. I knew immediately that I needed to continue drawing and to keep tapping into my creative bank, so I began to immerse myself in art again. As time passed, more pictures were completed and my techniques evolved and became more refined, with favourable results and further happy recipients of my labour.
And so I now find myself here at the start of the next instalment of my artistic journey with the beginnings of a gallery of work, pencils sharpened and at the ready and a head full of ideas. My goal in the months and years ahead is to create an ever expanding collection of aviation art focused on the planes, places and most importantly, the people of the United States Army Air Forces who packed up their kitbags and made Europe a temporary home during those pivotal years of the 1940s. My hope is that this website and the artwork to be found here will evolve into a lasting tribute to the sacrifices they made and hardships they endured so far from home.
In the meantime, I would like to thank you for taking the time to look at my website - I hope you've found it an enjoyable visit. And if you have any questions about my artwork, or are perhaps thinking about commissioning a picture please don't hesitate to contact me.
Best wishes,